Our Sheffield Student Houses
View our selection of 50+ quality student properties in Sheffield for the 2024/25 academic year and book a viewing:
3, Travis Place, Broomhall, Sheffield, S10 2DB
Free Wifi
Refundable Deposit Only £150.00
Flexible Rent Payments
1.3 miles from Sheffield Hallam University
1.3 miles from The University of Sheffield
Property details
£99.32
pppw including bills with Unihomes
When is the next academic year for Sheffield University?
Sheffield University's Autumn semester for the year 2024-25 starts on the 23rd of September (23/09/24) and the Spring semester ends on the 14th June (14/06/25). In total it lasts for 30 weeks, with breaks for Christmas and Easter.
When is the next academic year for Sheffield Hallam?
Sheffield Hallam University's exact calendar doesn't look like it's been released yet for 2024/25 but it will likely it'll start around September and end around June.
How much experience do PC Properties have as student landlords? 
We have been a student landlord in the Sheffield area for over 20 years, and we've pretty much seen it all. We always aim to be as supportive as possible to our tenants and make sure to pay attention to any comments. This is so we can provide a consistently enjoyable student living experience.
Why should you trust PC Properties?
We've also been on the winning end of several awards over the years. Some of the most recent accolades include the Maintenance Award and the Private Landlord of the Year Award in 2019. We also understand how important it is to be able to trust a student landlord. Being a family run agency, we truly care about our properties and our reviews reflect this.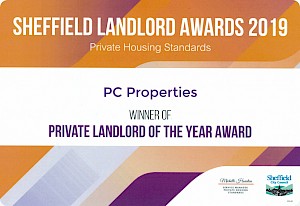 What if there is a problem when you're living in the property? 
We pride ourselves on having well-maintained properties in the first place, but problems can unfortunately still arise. That's why our landlord service aims to fix any issue you might have in your new home quickly and efficiently. It can be incredibly frustrating waiting weeks on end for a solution, whether that be for a leaky tap or a boiler issue, so we like to get things back to stress free as soon as possible. 
What is the wifi like?
Wifi is provided free of charge on all of our properties. We use a managed broadband service from our service provider Plusnet and a local IT company in Sheffield called Gemfish Ltd to service the connection. They aim to resolve any issues within 24 hours and truly give us and our tenants a stellar support service.
How much is rent and what are the terms?
Rent on our properties averages around £110 per person per week including bills, and we do offer a few options with bills not included and this averages at around £90 per person per week. The refundable deposit is £150 and we do offer flexible rent payment terms to suit each person.
Which areas do you offer properties in?
How many bedrooms do your properties have?