---
---

With the Collegiate Campus of Sheffield Hallam University right on your doorstep - and the University of Sheffield only a short walk away, Ecclesall has become one of the most sought after destinations for students attending either campus.
About our Ecclesall Road Student Houses
Our collection of Ecclesall properties in S11 range from quaint 3 bed houses, all the way up to 9 beds with a living and dining room that can house even the largest group of students.
When you opt for a PC Property, you'll benefit from a wide range of added bonuses.
Not only do our , they also receive internet access free of charge, with dedicated support from a local IT company, to boot.
We also offer flexible rent, so you can build payments around your loan instalments and never get caught short.
Things to do in the Ecclesall Road Area
As one of the city's most popular student areas, Ecclesall is the perfect choice for any group of friends looking for quality term time accommodation.
This district is commonly referred to as Sheffield's 'Golden Mile' thanks to its eclectic array of student-friendly pubs, modern bars, independent shops, quirky cafes and vibrant nightlife venues.
Get your street food fill from Mowgli's or Zaap Thai, grab a quick pint from Champs Sports Bar or the Nursery Tavern, and stock up on supplies at the local Tesco Metro.
Top it all off with a short walk through Endcliffe Park, Brincliffe Woods or the Botanical Gardens - all of which are only a stones throw away. 
Whatever your preference, you're sure to find something that suits your style in the hustle-and-bustle of Eccy Road.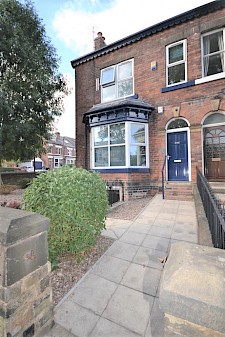 Award-winning Ecclesall Road Student Properties
---
We have a range of high demand student accommodation available in the Ecclesall area.
With our office also found in this great location, you'll benefit from having an award-winning maintenance team on your doorstep.
Swing by on your way home from Endcliffe Park or the University of Sheffield, we're always happy to have a chat with our tenants.
With additional perks including , award-winning landlords and a fantastic student living experience, discover what's on offer in a PC student property today.
High-Quality Sheffield Student Accommodation
"I've used PC Properties for a year now and will be staying in the same property for the next year. I've had no major issues.
Any small things were reported and the maintenance man was out within a day or two to fix it, no questions asked.
Definitely the best student housing around Ecclesall Road as we tried other agencies before settling and no others compare."
- Olivia Raybould, Ecclesall Road Tenant -