There's no doubt about it - university is one of life's most exciting and unusual adventures. At no point before or after in your life will you have an experience quite like it. 
So, to help you make your first few weeks at uni the best that they can be, we've shared our favourite strategies to help students reduce stress and improve their overall wellbeing during their university journey. 
Keep reading to find our advice for how to move out as a student, including ways to deal with the most common stresses that students face, and our practical advice for building a happier, more balanced student life. 
How Can I Make My Student Room Nicer?
Creating a comfortable and pleasant living environment is one of the most effective ways that you can support your mental health during your time at uni. Not only does it help you to build bonds with your new area much faster, but it gives you a safe, enjoyable space to recuperate when you need a bit of me-time. 
What's more, even if you're stuck on a pretty tight budget, you can quickly, easily and affordably decorate a new student room, using these handy tips. 
Tips for decorating and organising a student room on a budget: 
Take a pre-loved approach - make the most out of pre-loved shopping places. Two of the most popular include Facebook marketplace and Vinted, or you can also search your local charity shops and antique shops. Not only is this a great way to find some proper bargains, but it also makes your new room far more unique, than if you'd simply bought off-the-shelf high street items. 
Upcycle- once you've found your second-hand gems, you can customise them. Using paints, stains, stencils or other DIY hacks, you can bring a whole new lease of life to your furnishings. 
DIY it - if there's one thing that the internet is absolutely full of, it's DIY ideas. Pinterest is a fantastic app for this, as it has got tons of inspiration for decorating, upcycling and crafting new homeware. As a great example, we love this macrame plant hanger tutorial. It's super easy to make, all you need to buy is some string and a keyring, and the end result is incredibly satisfying!
Display your photos - since you can get a big pile of photos printed very cheaply,  a photo collage is the perfect budget-friendly decoration. Plus, they're fun to make, and instantly make the room feel more homely.
Turn it into an activity - you could even play host, and invite other students to join you for a craft night. For example, you could plan a 'BYOB painting night'. Then at the end of the evening, you'll have a painting that is filled with its own fun memories. 
Don't go overboard - try to strike a balance between personality and minimalism. If you buy too many nicknacks and pin up too many posters, your room can quickly feel cluttered and disorganised. So, stick to a plan and keep reassessing as you go. 
When it comes to studying, don't get into the habit of working from your bed! Make sure your desk is comfortable and a nice place to work, as this will go a long way towards promoting healthy working habits while you're at uni. 
So, create a relaxing space for studying and winding down in your room. A great way to do this is to research ideas for organisational solutions, and cheap hacks for keeping the space organised and tidy. TikTok and Pinterest are the perfect apps for this. 
Then, for the stuff that you do display on your desk, choose meaningful and personal items, like photographs or a couple of treasured keepsakes. 
Also, try adding a few plants to your desk. Did you know studies have shown that spending just 5-10 minutes in a room with houseplants is enough to help you feel happier and more satisfied? Plus, if you go to your local garden centre or big supermarket, houseplants are usually very affordable. Win-win!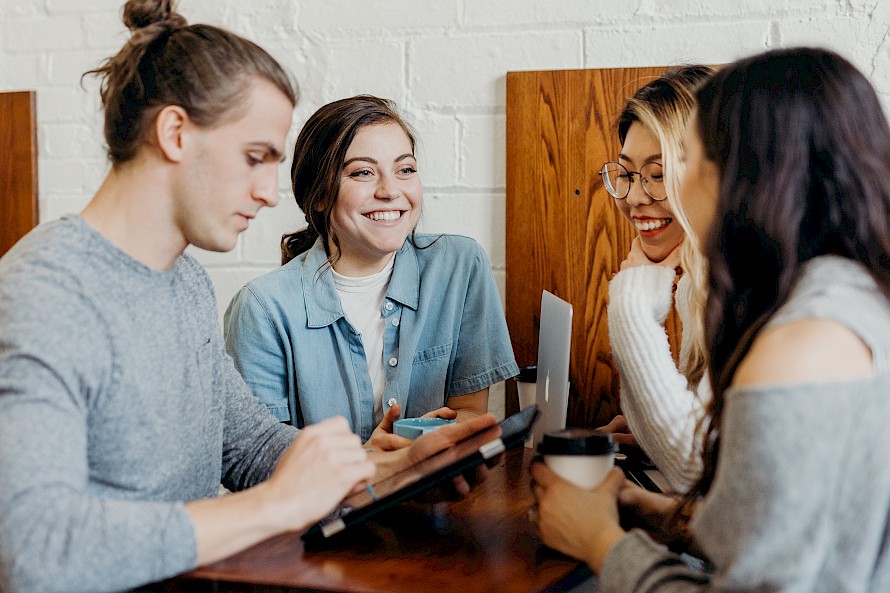 How Do I Build Quality Friendships at University?
We've all heard the expression that you meet your 'friends for life' at university. But, while this is a really exciting thought, it's also a very intimidating one. How do you put yourself out there, and make new friends from scratch? But of course, everyone's in the same boat.
After the initial rush of meeting endless new faces in the first few weeks, things will quickly settle down, and you'll soon start to build meaningful connections with your fellow students. And what better way to make a new place feel like home? 
If you find the idea of meeting new people to be really nerve-wracking, have a read through our tips for meeting new people. 
Tips for meeting new people at university: 
Make the most out of freshers events - your student union will put on a wide variety of different group events, especially during the first few weeks of uni. This will include both drinking events and non-drinking activities, so there's something for everyone. 
Join clubs - find clubs that spark your interest, and you'll naturally find like-minded people there. 
Organise study groups - when your lectures start, arrange study groups with your coursemates. These could be at your flat, in the library, or at a cafe. 
Work in public areas - or, if you don't feel ready to plan a group study day, you could start by bringing yourself out to work in public spaces, like libraries and cafes. You'll quickly find that people pop over and say hi, or make general chit-chat. 
Try to go to activities in small groups, or on your own - big groups can make people who are on their own feel too intimidated to approach you. So, you'll find that this is a much more effective way to meet new people. 
Then, when you do start to meet new people, the next step is to forge a friendship. 
Tips for initiating and maintaining new friendships:
Be honest and candid
Be approachable, welcoming and friendly 
Be brave! Try to take the first step, and initiate conversations 
Listen, and communicate effectively - ask about them, and answer their questions with honesty and enthusiasm
Engage with their interests 
Arrange activities - don't just stick with lazy days in the flat. Mix it up with a variety of different activities. This way, you can create new memories and shared experiences together
Foster regular, ongoing communication - both in-person and online 
Build their trust, and remain reliable - do your best to avoid cancelling commitments 
Remain true to yourself - although it might be tempting to bend yourself a bit to fit in with a group better, this falseness can usually be detected. Plus, finding people that like you for who you are is the best way to build real, long-term friendships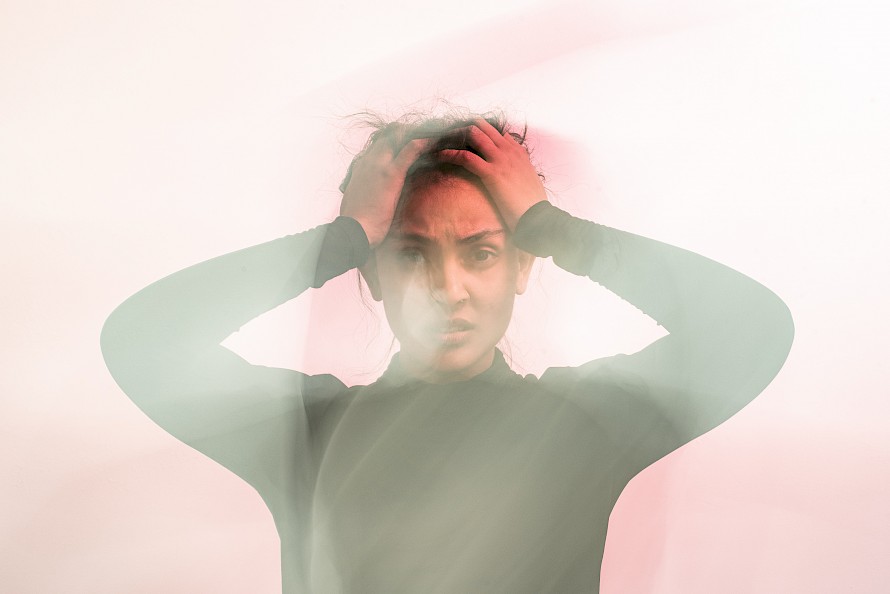 How Do I Cope With Exam Anxiety?
Exam anxiety is an incredibly common experience. It's a feeling that almost all students will experience at some point, to a greater or lesser degree. 
But, if left unchecked, it can have a significant impact on students' wellbeing. So, if this is something that you struggle with, it's important that you find and adopt coping strategies that work for you personally. 
Tips and ideas for coping with exam anxiety:
Spend some time finding the study techniques that work best for you - this will help you to maximise the benefits of your study time 
Write micro and macro to do lists - these should include lists for each day and then your weekly goals. Not only will this keep you organised, but it will also help you to recognise (and celebrate!) your achievements
Track your progress and reward yourself for your achievements
Balance group study sessions with independent learning
Voice your anxieties to your peers, and reassure each other 
Manage your time well - create a detailed plan early on, as splitting up the workload over a longer period of time will make you feel less overwhelmed, and prevent a last-minute cram! 
Plan time to relax into your days
Maintain a healthy lifestyle, with daily self-care practices (more on this later) 
Don't isolate yourself 
Get plenty of fresh air - schedule regular breaks, and make sure that you're going outside at least a couple of times each day
Practise deep breathing and mindful relaxation techniques
Ensure that your 'self-talk' is positive, with self-affirmations 
If you're struggling to cope with stress, there are lots of different ways that you can get help. The university and its staff are there to support you, and can either provide advice to help you more effectively manage your workload, offer extra one-to-one meetings, recommend resources to help support your learning, or provide you with therapy services, depending on what would be the best help for you.
So, if you are finding it difficult to manage your stress, reach out to one of your fellow students, or speak to your professors or the university support team. 
Or, if you don't feel comfortable talking to someone from your university, Samaritans is a charity that offers a free telephone counselling service. You can call them at any time, and speak anonymously to a trained professional, for free. The Samaritans contact number is: 116 123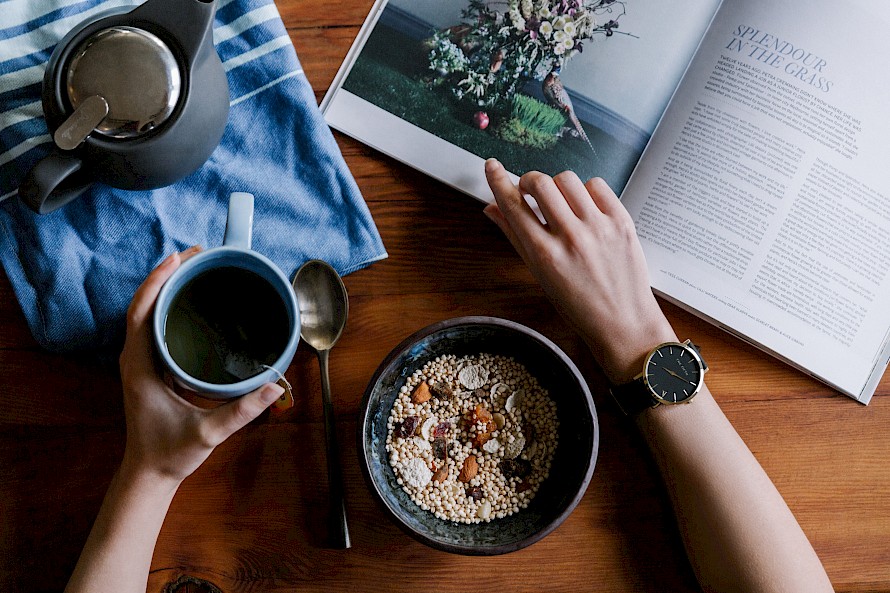 Living a Healthy Student Lifestyle (Which Isn't Easy!)
Maintaining a healthy lifestyle while juggling academic commitments and social activities is no mean feat! 
It's a challenge that a lot of students face, but, with a bit of planning and practice, you can strike the right balance. Then, when you do, you'll find that your student experience is far more balanced, rich and fulfilling. 
Tips for incorporating healthy habits into a student routine:
Schedule regular exercise - a great way to do this is by joining one of your university's sport societies
Ensure your diet is varied and nutrient-rich 
Cook when you can - don't settle for too many takeaways or microwave meals!
Make sure you get sufficient sleep 
Avoid excessive caffeine or energy drinks 
Find healthy ways to manage your stress
Make time to go outside, at least a couple of times each day 
Spend time with other people 
Set a healthy limit for your screen time - this is especially important if your uni work requires you to use a laptop for most of the day. You can also use apps to help you with this, such as AppDetox. 
When it comes to prioritising healthy habits and self-care activities, it's all about managing your time effectively. 
One of the most effective ways to do this is to implement a routine so that you can, where possible, stick to a schedule of getting up, going to bed, working and switching off from uni work for your self-care activities.
In addition to the benefits that come with sticking to a regular routine for your days, this approach is also a great way to help you maximise your time. If you don't plan your time (and don't set a fixed finishing point for the time that you'll spend studying) your work days can feel like an endless slog. Not only can this feel very daunting, but it also makes it much harder to feel motivated to stay focused. 
So, implementing a regular routine for your weeks will help to keep you productive, motivated and ensure you have plenty of time left each day to do the things that bring you joy.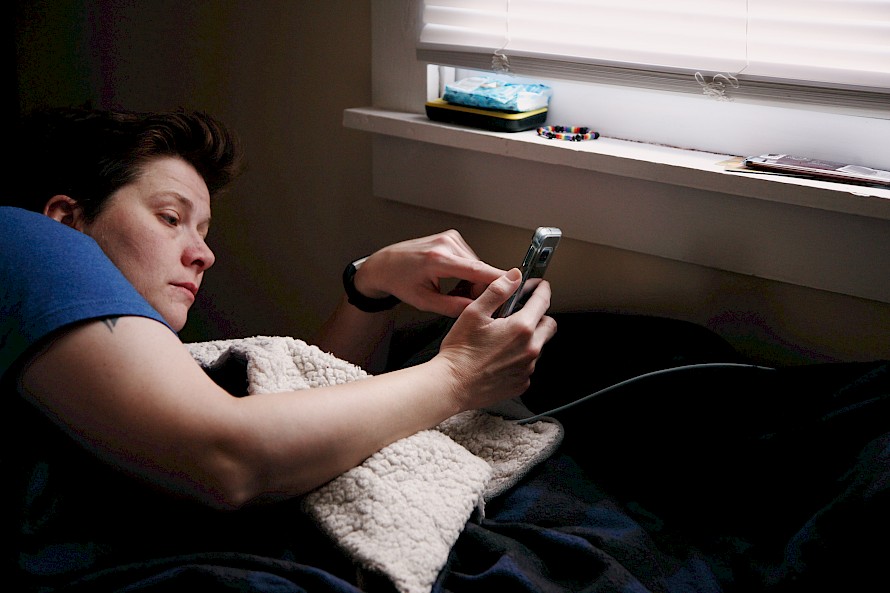 How To Cope With Missing Home
When moving out as a student, one of the biggest challenges that you may face is coping with homesickness. 
After all, you're adjusting to a completely new environment, most likely in a new place and surrounded by completely new people. Of course, it's a perfectly normal reaction. But, that doesn't make it easy. 
So, don't feel like you have to dismiss or try to push down those feelings of homesickness. Instead, find the coping mechanisms and self-care practices that work best for you. 
Tips and techniques for coping with homesickness: 
Stay connected with friends and family 

Explore your new environment - see what your new area has to offer, and get excited about the idea of living there for the next few years 
Make your new room a comfortable and enjoyable space to be in 
If you need to talk to someone, seek support from university counselling services or student support groups 
Allow yourself time to adjust 
Keep yourself busy, with clubs and other student activities 
Implement a daily routine, balancing work with things that you enjoy 
Remain patient, and focus on the positives 
Another fantastic way to help manage homesickness is by creating a sense of home within the university setting. By using the other tips in this blog - about decorating your room, building healthy habits and making new friends - you can help to speed up the process of making your new university life feel homely.
Conclusion:
Alongside the challenges and rewards that come with your degree itself, there are all the joys of meeting hundreds of new people, forging life-long friendships, and creating your own independent home (for many students, for the very first time). 
But as you can see, there's a huge amount to juggle here! So naturally, while there are endless things to be excited about, there are also a lot of emotions involved in starting your first year at university, and not all of them will be positive. 
With so much going on, it's bound to be the case that you have some moments of stress, anxiety and homesickness - they're all perfectly normal parts of the experience. And, by finding which of these tips work best for you, you can navigate these hurdles far more easily, to create a more balanced and fulfilling university experience.