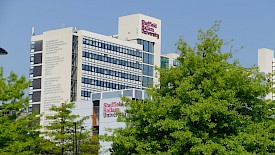 1) Is Sheffield Hallam a good university? 
Sheffield Hallam University might not be a member of the country's prestigious Russell Group - like the University of Sheffield is, but it's still an institution of academic excellence. Matching up to their rivals, SHU was awarded 'University of the Year for Teaching Quality' in 2020. It's little surprise when it boasts high-spec facilities, world-leading tutors, and a diverse range of courses.
Tracing its roots to 1843, as the Sheffield School of Design, Sheffield Hallam University has grown to exercise a powerful impact on the city, region - and wider world. Today, it is one of the UK's largest and most diverse universities, home to the nation's largest business school, and one of the biggest trainers of healthcare staff for the NHS in the country.
2) What is Sheffield Hallam known for?
Sheffield Hallam University is home to one of the UK's oldest art & design institutes - and known to be one of the country's largest providers of health, social care and teaching courses. With a mind-boggling range of degree subjects, SHU ranks highly in physiotherapy, radiotherapy, social policy, hospitality, tourism and events, and land and property management. 
Aside from this, Sheffield Hallam University is also known for high levels of student satisfaction - ranking first in the UK for accommodation cost, employability and international student support. The institution also boasts several notable alumni - including Olympic gold medalist Dame Kelly Holmes, creator of Wallace and Gromit Nick Park, and actor Sean Bean.
3) Does Sheffield Hallam give unconditional offers?
Students may question this as certain universities don't give unconditional offers, while others only give them to applicants who have already finished their entry-level qualifications. Sheffield Hallam University, however, grants unconditional offers to select applicants who are expected to do well in their studies, perform well in their interviews - or have good academic profiles, overall.
4) Can students get housing benefits in the UK?
Typically, you can't make a new housing benefit claim unless you're of pension age or living in certain kinds of sheltered accommodation. As such, most students will not receive housing benefits while attending university - regardless of whether they receive student loans, or not.
For students above pension age - or those who otherwise qualify, it's worth noting that receiving a student loan will most certainly affect your housing benefit. This support is means-tested and any type of income you receive will be taken into account when determining your entitlement.
5) Are student houses cheaper than halls?
Generally speaking, student houses are cheaper - and far more affordable, than private or university-tied halls. Most halls of residence are designed for students - and are conveniently located on campus, or within the city centre. Due to this, they tend to charge premium prices.
For students in second or third year, private housing offers greater flexibility in where you are living - and who you are living with. By settling further outside of the city, you'll also benefit from cheaper rental prices. What's more - with a wide variety of thriving student living areas, you're sure to find plenty of great housing options to suit your budget in Sheffield.
6) What are the main differences between living in halls and housing?
There are several hurdles you'll have to overcome that you wouldn't in halls. Figuring out who gets which room, getting to know your local transport links - and sourcing your utility suppliers, are all things you'll need to start thinking about. To make things a little simpler, it might be worth exploring private housing options with bills included - like our homes here at PC Properties.
Aside from this, you can expect to find your time in private housing far more enjoyable than halls of residence. As opposed to just randomly getting thrown together with strangers, you'll live with a chosen group of close friends. You can also expect your overall living experience to feel much more homely as you get your first taste of independent living in a student rental property.
---
---
On top of living in one of the city's most popular student living areas, you'll also benefit from flexible rent and award-winning maintenance when renting a PC property.
Whether you're interested in wandering the idyllic river trails of Endcliffe Park near Hunters Bar, or looking to boost your fitness regime at Hallam Active Gyms in Broomhill, you're sure to find something that suits you - with our ever-expanding range of high-quality student housing.
Our high-quality student houses cover the following student living areas in Sheffield…
- Botanical Gardens Houses (S10) - 1.6 miles from campus (34-minute walk or 21-minute bus)
- Broomhall Student Houses (S10) - 1.1 miles from campus (24-minute walk or 15-minute bus)
- Broomhill Student Houses (S10) - 1.6 miles from campus (36-minute walk or 22-minute bus) 
- Crookes Student Houses (S10) - 2.0 miles from campus (48-minute walk or 23-minute bus)
- Crookesmoor Houses (S10) - 1.5 miles from campus (34-minute walk or 18-minute bus)
- Ecclesall Road Houses (S11) - 1.5 miles from campus (30-minute walk or 12-minute bus)
- Hunters Bar Houses (S11) - 1.7 miles from campus (34-minute walk or 14-minute bus)
Please note, these distances are to SHU's primary campus in the city centre. Those attending the collegiate campus in Broomhall, will find ideal locations in Ecclesall, Hunters Bar, Botanical Gardens, Broomhill, and - of course, Broomhall itself.
Get in touch with an award winning Student letting agent in Sheffield today
Related Blog Posts