If you're set on studying in one of Yorkshire's biggest cities, chances are you're torn between the higher education institutions in Leeds and Sheffield. While both will provide you with an amazing city, world-leading facilities and a student experience like no other, they do have their differences. So, how exactly does Leeds University compare to Sheffield University?
Student Living in Headingley vs Ecclesall 
Both Leeds and Sheffield have high-quality student living areas to choose from, but you may be wondering how their most popular ones compare…
Ecclesall Road Student Houses 
It's no secret that Ecclesall Road has always been a popular area for Sheffield students to live in, and - with its lively atmosphere, wide range of amenities and close proximity to both Sheffield's city centre and university campuses, it's not hard to see why. One of the biggest draws for students - however, is its bustling nightlife. From trendy bars to traditional pubs - and everything in between, there's always something going on in Ecclesall Road after dark.
Headingley Student Houses
One of the main reasons Headingley is so popular among young adults is its vibrant student community. The area is home to a number of universities - including Leeds Trinity University, Leeds Beckett University and University of Leeds, meaning they're all within easy walking distance. The area also boasts plenty of amenities to cater for young people. From quaint little cafes to independent boutiques, there's always something to do or see in Headingley.
How Good are the Uni Courses?
If you're dead-set on the subject you're wanting to study at university, you'll need to know exactly how highly these two institutions rank for their courses…
Sheffield University Course Rankings 
With over 250 courses on offer, there's something for everyone at the University of Sheffield. Unsurprisingly, the institution leads the way in engineering - as might be expected from the City of Steel. Production/ manufacturing, aeronautical/ aerospace, medical/ biomedical and mechanical engineering are all areas where TUOS ranks highly for student satisfaction.
Other courses the University of Sheffield scores highly in include psychology, zoology, health studies, economics, journalism, linguistics, dentistry, ophthalmics and artificial intelligence.
Best Courses at Leeds University 
In comparison, the University of Leeds boasts more than 400 master's and undergraduate courses in a range of specialisations. According to the Complete University Guide League Tables 2023, Leeds University ranks as the 4th highest institution to pursue accounting and finance. It also scores highly for business, civil engineering, medicine and computer science.
While both universities have similar entry requirements, the University of Leeds ranks slightly higher than Sheffield in the QS World University Rankings 2023. However, TUOS fares a lot better in various areas, so it's always worth checking league tables for your chosen subject.
What about their Student Unions?
From societies to nights out, a high-quality students' union is essential if you're looking for a decent student experience…
Leeds University Union
According to the National Student Survey, satisfaction with Leeds University Union's ability to 'effectively represent student's academic interests' scored relatively highly - giving Leeds the 10th highest rating in the Russell Group of universities. With over 300 student-led clubs, you're sure to find something to suit your interests. From dance and drama to rugby, gaming, photography - or even skydiving, there are plenty of great opportunities to make new friends.
University of Sheffield Students' Union 
If you're opting for Sheffield University, you'll join one of the most active SUs in the country - who'll make it their personal mission to ensure you enjoy your time there. With great nightlife events, quality spaces and over 350 societies, it's little wonder this student union got voted best in the UK in 2017, 2018, 2019, 2020 and 2022 by the Whatuni Student Choice Awards.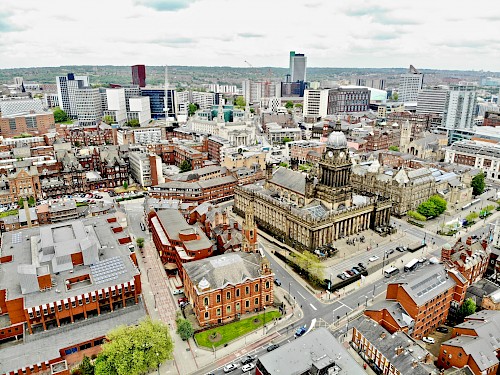 How does the Nightlife compare? 
If you're a fan of partying and can't wait for Freshers' Week, then the quality of each city's nightlife might be your deciding factor…
The Music Scene in Leeds 
Leeds is a bigger city than Sheffield - with incredible nightlife, weekly student events and a legendary music scene. With over 50 bars and clubs in the city centre, you're sure to find plenty of great gigs to suit your tastes. Home to the world-famous Leeds Festival, it's no wonder so many artists find their roots here. It's well-known the Kaiser Chiefs hail from Leeds, but did you also know the likes of Soft Cell and Alt-J met while studying here too?
Sheffield Student Nightlife 
In contrast, Sheffield is smaller - and likely has less venues to choose from, but that doesn't mean it's a disappointing night out. Aside from a plethora of SU nights, those studying in the city will find a bustling nightlife scene on West and Division Street. Dance the night away at Stein Haus or revel in the insanely cheap drinks at West Street Live. There's also the city's Tramlines Festival - which annually attracts a lineup of household names and rising stars.
Other Activities in Leeds and Sheffield 
If you're searching for a vibrant city full of culture, experiences - and plenty of great things for students to do, look no further than Leeds and Sheffield…
Sports and Hobbies in Sheffield 
From cinemas and theatres, to restaurants, art galleries, museums and more - there are so many things to do in Sheffield, you'll never get bored. Above anything else, the city is known for its vast array of green spaces. In fact, with over 250 parks - and more than four and a half million trees, it's one of the greenest cities in Europe. Relax and unwind in nature, or - better yet, venture out to the nearby Peak District for a spot of adrenaline-fuelled rock climbing.
Sports fans out there will also benefit from living in a football-mad city. Pick a football team to support - be it Sheffield Wednesday or United, and head for a match at Hillsborough Stadium or Bramall Lane. With great transport through the city, you're never too far from the action.
Things to do in Leeds 
Matching up to their Yorkshire rivals, Leeds also boasts a vibrant and colourful list of things for students to do while living there. In need of some retail therapy? Unearth vintage gems at Headingley's thrift shops, or discover a shopper's paradise at Kirkgate Market. Feeling like a boogie? Hit up Merrion Street, Greek Street or Call Lane if you're wanting to take the party to the streets, or kick off your student life in the right way by taking on the infamous Otley Run.
Whatever your preference - and whatever your style, you're sure to find something that suits you in the hustle-and-bustle of the UK's third largest city.
What about the Cost of Living?
In the current economic climate, students are more concerned about the cost of living in their chosen city than ever before…
Sheffield Student Living Expenses 
Anyone stressed about managing their finances will be relieved to hear Sheffield is the most affordable city for students in the UK. From its bustling student living areas to the city centre itself, you'll be able to make your money stretch further with plenty of student discounts. On average, you can expect to pay around £1,412 per year on your living expenses in Sheffield.
How Expensive is Living in Leeds?
While the cost of living in Sheffield is 10% cheaper than Leeds, the latter is still an affordable option for young adults studying in the north. This is due to the fact that Leeds is the biggest city in West Yorkshire - and 3rd largest in the UK. Despite this, the city is still relatively small compared to the likes of London or Birmingham, allowing it to benefit from lower price points.
High-Quality Student Accommodation
Whichever city you opt for in Yorkshire, you'll need high-quality student accommodation for a comfortable stay. Luckily for the students we have great Sheffield university student accomodation to offer. We'll welcome you in style. With award-winning landlords, free Wi-Fi, and a wide range of homes in the city's most popular student areas, you can trust us to find you a place where you'll feel right at home.

What're you waiting for? Get in touch with our friendly Sheffield student letting agent team to book a viewing with us today.