We know that finding the right place to live is a really important part of being a student.
Your time at university is one that will stay with you long after your graduation. With friends for life by your side, you'll have memories that last just as long.
But finding good quality student accommodation in Sheffield, combined with a reliable and friendly landlord can be a daunting task, particularly with the rush to secure a property starting so early.
At PC Properties we understand that the social element is a hugely important part of your university experience and your student accommodation is the venue for making it happen.
Yes, you need somewhere to study. But you also need a place to relax and explore from. We have over 50 properties across  the most sought after areas of Sheffield, each with its own unique values. From Ecclesall Road, Broomhall, Broomhill, Crookesmoor and Crookes,  you'll be sure to find the perfect student house for you and your friends.
We have properties from one bedroom flats up to 10 bedroom shared houses, so there is a size to meet everyone's needs. And while you're studying and having the time of your life, you know your home is being looked after with our excellent hassle-free maintenance service, which includes an out of hours emergency response.
What's more, you can benefit from Free WIFI, which includes a fast and effective response service in case of any problems.
We also offer all-inclusive bills options to cover gas, electric, water and T.V licence
Speak to a member of our family-run team to see how PC properties can help.
For Professionals
We also have a great range of 1 or 2 bedroom apartments available to rent for professionals.
When you're working in the city and you have a busy life after work, the last thing you need is to worry about your home.
At PC Properties, we like to keep it simple for our tenants. With 48 professional apartments across popular locations in Sheffield, our professional's properties are the perfect answer for the career-minded.
As well as competitive rents, you'll benefit from a landlord service that cares about your home and offers maintenance to fix any problems you might have,  without a lengthy wait!
Choose from either one bedroom or two apartments depending on your need.
Speak to our family-run team for advice,  or to book a viewing today.
Meet Our Team
Meet our friendly and experienced team, who are here to help and offer you honest advice, combined with the very best service throughout your tenancy.
Peter Turkington

Manager & Company Secretary

Collette Brookes

Assistant Manager

Gary Spooner

Accountant & Finance Manager

Phil Darwent

Maintenance Manager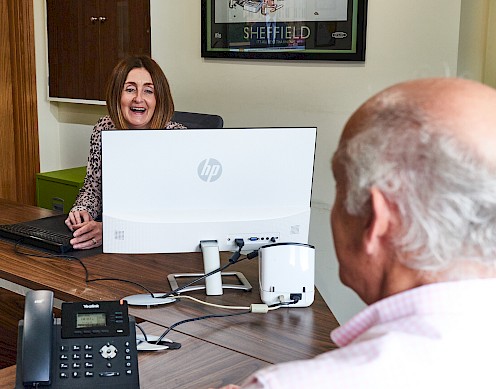 We are on hand to help you every step of the way
Our friendly team are here to help and offer you honest advice, combined with the very best support service throughout your tenancy.
Why choose us for a student estate agent in Sheffield?
Landlords who truly care and who you can trust.

Finding a great landlord can be a bit of a lottery, but you can rely on us to ensure your new home will be an enjoyable and stress free experience.

Over 20+ years of experience

We've seen a huge change in private Sheffield student living since we opened our doors, and we've listened to the feedback of our tenants to ensure our service always remains relevant.

Award-winning maintenance

It really couldn't be easier. With an incredible student lettings agent support team based in Sheffield, we address issues and put things right straight away. We're always only a phone call or e-mail away.

We Know the Area

With 55 houses and apartments in Sheffield, including the popular student areas of Ecclesall, Broomhall, Crookes and Broomhill, we know the places students want to be...and we're lucky enough to have properties there too.
Our Awards
We're delighted to have been recognised on multiple occasions in the Sheffield Landlord Awards scheme for the hard work we put into providing a winning service. This award scheme is the initiative of Sheffield City Council Private Housing Standards, and we are immensely proud to have been twice voted the coveted 'Landlord of the Year' by our tenants.